We as a climate group were in Greece together from 28.11. – 04.12.2021 and want to share our experiences and new cultural experiences with you in this article.
Some of you may be wondering how and why we travelled to beautiful and sunny Greece with an AG. We visited Greece with the EU-funded Erasmus Climate AG to learn about new cultures and interact with youth from other countries in Europe. Our trip started with a 2am train journey to Düsseldorf airport, followed by a three-hour flight from the cold of Germany to the sun of Greece. In Athens, we stayed in a hotel, as it was was not possible to accommodate us in host families due to the Covid pandemic. Fortunately the Hotel very centrally located and only a stone's throw away from the beautiful old town of Athens. The next day we visited the Acropolis in Athens as well as the nearby museum, where we were looked after by a fantastic guide. On the same day, we met our exchange partners from our host schools in Finland, Poland and Greece for the first time.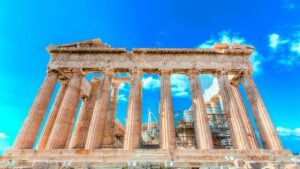 On Tuesday, we said goodbye to Athens after a visit to the Stavros Niarchos Cultural Centre, a monument to sustainability and the first public building in Europe to receive LEED Platinum certification for green building, and travelled on by bus to the port city of Volos. The city, where our Greek host school is also located, is the sixth largest city in Greece and home to the myths surrounding Jason and the search for the golden fleece. We arrived in Volos in time to attend the impressive opening of the Christmas season there and to visit the brightly lit streets. On our first real day in Volos, we visited the interesting town as well as the local archaeological museum. The next day, an excursion to the famous Meteora monasteries in the centre of Greece awaited us. The monasteries, each run only by women or men, are located on fascinating rock formations and are one of the highlights of our thoroughly successful trip to Greece. On Friday, our last day in beautiful Greece, we first dealt with our prepared presentations on the topic of environment and sustainability and then we visited one of the largest solar parks in Greece.
Afterwards, we went to Lake Karla and a small museum that impressively documents the history of the fishermen of the region, the expulsion of the people from the region, as well as the environmental destruction and the current efforts for renaturation.
As a farewell, we all enjoyed a cheerful farewell party at the school, as we had become close friends during that time.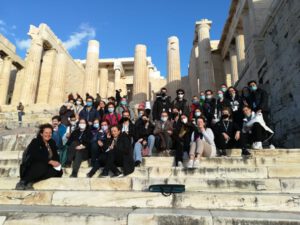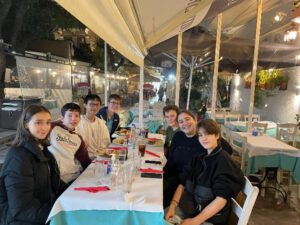 All in all, it was a very successful and informative excursion and we hope that we could gain your interest for the Erasmus Climate Action Group.
Julius Peters und Luca Möller aus der Klima AG